Author's note: My six-year-old son, Connor, has epilepsy, which we control with a medical diet, the Ketogenic Diet. This diet is prescribed by a doctor and overseen by a team of dietitians. The Ketogenic diet is a high fat, low protein, low carb diet that causes the brain to run on fat instead of glucose. This has a calming effect and can be used to control or even eliminate seizures. These posts are meant to be a peek at what our life is like while on the diet, not instructions for how to do the diet on your own.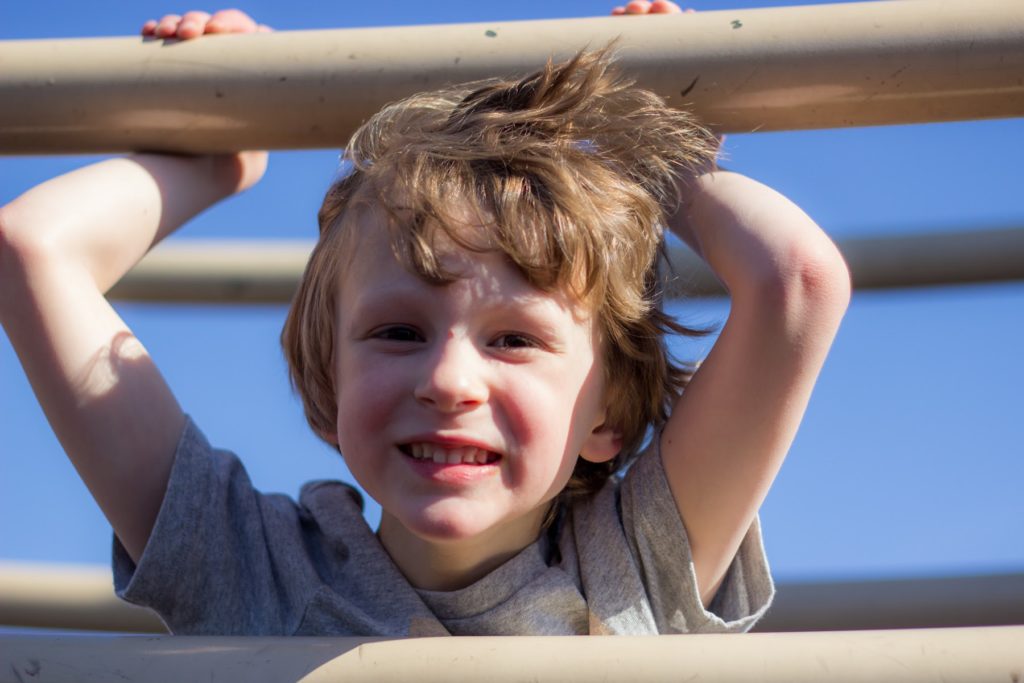 I don't speak much publicly about Connor's medical diet. Not details, anyway. Connor's medical diet is one of the hardest pieces of my life right now and despite repeatedly being told that I should blog about it or talk about it more, I don't. Partly because it already sucks up so much of my time and energy, that then going to the effort to write about it doesn't sound particularly fun. Also the diet and how it impacts our day-to-day life is so big and vast of a topic, I struggle to write short about it.
This will be long winded, and honestly, I'm not sure I've ever messed with a blog post so much as I have with this one. I've even scrapped it a few times. But I keep feeling the pull to write about the diet. The pull to document what our life is like in this season, with a child who at a glance seems healthy and normal, but who is on a diet so strict that we literally weigh every bit of food that goes in his mouth. And a diet so strange that I have actually spoken the words, "You don't have to eat your carrots, but you do have to eat all your whipped cream."
So, I thought maybe I would follow the great advice of Anne Lamott who talks about giving yourself short assignments as a writer. Today, I'm not going to walk you through Connor's battle with epilepsy or all the ways I've failed or keto support group or any number of topics I could tackle.
Instead, I'm going to talk about breakfast.
Breakfast is our hardest meal on the Ketogenic diet. The team of dietitians at the children's hospital tell us they hear this a lot. The thing is there's no quick breakfast you can make. No bowl of cereal for mornings where you just don't feel like eating a lot or when you're running late.
Strange breakfasts he's eaten since February 2015, when he started the diet, include but are not limited to:
Bacon with pats of butter on top of it. Heavy cream to drink. A tiny bowl of fruit.
Plain Cheerios or GrapeNuts that we pour oil over. Then we use heavy cream instead of milk. Bacon on the side.
A bagel and cream cheese. But the bagel is about a 2-inch section of plain bagel, and the cream cheese is actually a mixture of cream cheese and butter. And it's about 1/3 to half-a-cup in measurement. Then there's heavy cream on the side to drink.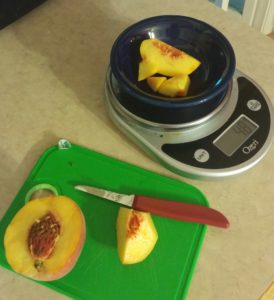 Breakfast takes him at least 30 minutes, usually 45, and it's not odd for him to still be puttering about the table after an hour. We can't let him take any longer than that. Because it's a diet of ratios (meaning he has to eat a certain amount of fat with his proteins/carbs for him to stay in ketosis) he needs to eat his meals in a certain amount of time. And he needs to eat all of it.
For breakfast this morning, I made him peach yogurt, bacon, and cream. Even this meal, which he told me was yummy, took 45 minutes. And he needs to be pushed through the whole thing before we walk up to school at 7:50 a.m.
Everything we make–every bite that goes in Connor's mouth–is weighed out and calculated in grams. We have a special program that we use to make meals for him, and then before we can feed them to him, one of our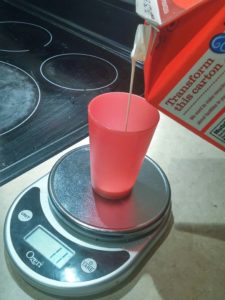 dietitians at the hospital has to look it over and approve it.
This means there's no, "Oh, look, cherries are on sale! Here, have a cherry, Connor." Instead, I'm getting on-line, logging into the KetoCalculator, creating a meal that's at Connor's specific ratio and calorie amount (every meal of his has 450 calories). Then I have to get the meal approved, and then Connor can finally eat his cherries.
The meal I made him for breakfast this morning is pretty easy as far as Keto meals go. The "yogurt" is actually made from his vanilla pudding, which I made the day before. When I make a batch of Connor's pudding, it's 200 grams of heavy cream, 40 grams of oil, 100 grams of water, and 20 grams of Jell-o sugar-free instant vanilla (or chocolate) pudding mix. We usually use it as a dessert, but a few weeks ago I had the thought, "If I put fruit in it instead, maybe it would taste pretty close to store bought yogurt." So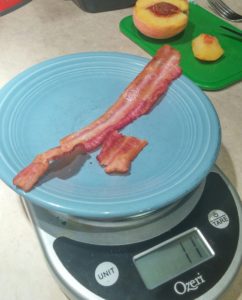 after building a meal and getting it approved, this morning I weighed out 45 grams of a peach (which is about a quarter of the whole fruit), diced it, and then smashed it with a fork. I added 86 grams of pudding and stirred them together. With that, he had 11 grams of Kirkland bacon and 27 grams of heavy cream.
Here is what will likely happen. Connor will love this meal for a bit – anywhere from a week to a month. He'll request it daily, he'll eat it in 30 to 45 minutes with no complaining, and minimal prodding comments from me like, "Connor, I love your stories but you're not eating. You can talk again once your cream is finished."
Then I'll have to start prodding him more. He'll linger at the table well after the rest of us are done. He'll start telling me it's yucky, that he doesn't want to eat it. We've done this time and time again in the 18 months that we've been on the diet.
I will feel frustrated and remind myself why we're doing this. I will make myself think about days when Connor would have 100+ drop seizures a day. When he was on three different medications to control his three different types of seizures, and none of them were doing what the diet has done.
Connor has been seizure free for 14 months now. His epilepsy is controlled purely by the diet. We've been able to wean off all his medications and watch him come alive. If he can stay seizure free for another 10 months, we can try weaning him off the diet. Thinking about some  magical day in the future where Connor can bake with me again and snitch blueberries without us weighing it out and balancing it with heavy cream is both exciting and terrifying. What if he starts having seizures again? What if we have to keep doing this diet?
One day at a time, we keep telling ourselves.