I've been sitting on a secret for months. Though if you follow me on Instagram or you read the Go Teen Writers blog, you'll know that I wasn't great at keeping 100% quiet about my work in progress. So you maybe already know that I've been working on a World War II era novel, or perhaps you even saw a stack of some of my research books: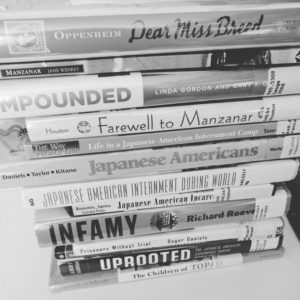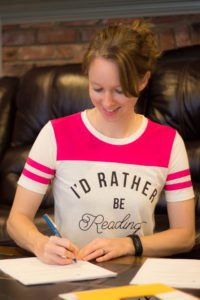 Now that I've signed my contract (pictured on the left) I'm finally free to share the details of my next release, tentatively titled Within These Lines. I'm working with Blink/HarperCollins, the same amazing group of people who published The Lost Girl of Astor Street, and here's what the story is about:
Her family is Italian.
His is Japanese.
It's 1942, and it's the worst possible time for them to fall in love.
Evalina Cassano is a senior in high school when Japan attacks Pearl Harbor. While she has always been tender-hearted, Evalina's parents are surprised by how devastated she is over the attack and the Executive Order that soon follows. An order that that makes it lawful to remove all Japanese-Americans from the west coast and imprison them in concentration camps.
What Evalina's parents don't know is that over the last year, Evalina has fallen in love with Taichi Hamasaki, an American citizen of Japanese descent.
In a time when interracial marriage is illegal in California, Evalina and Taichi have always known that when their relationship became public, they would be fighting a battle. They just never realized that they would be divided in this fight, one of them free, and the other stuck inside the barbed wire fences of Manzanar Relocation Center.
This is a story about the gritty, exhausting side of love. The kind of love that seems to only invite heartbreak, but is tenacious and unrelenting all the same. And while this seems like a strange thing to say on the heels of those statements, it's been an absolute joy to write.
If you would like to receive a notification when Within These Lines is available for pre-order, you can sign up here.
As more details, sample chapters, and cover art become available, I will share them here!