Release day is finally here! I had some very pretty boxes of books show up at my house on Friday: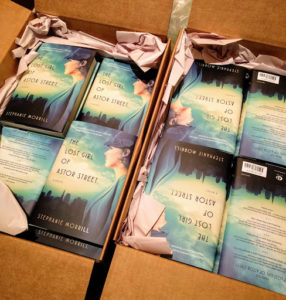 In celebration, I'm going to give a couple away! Here's how this works:
If you scroll just a bit, you'll see a list of blogs. Each of these blogs features something fun about The Lost Girl of Astor Street, like an interview, a review of the book, or something else. Each of them also has a word that will form a clue about the story.
Go to each of the blogs and collect the clues. Starting with this one. 

Clue 1: The

When assembled in order, the clues make up several sentences. At the last stop on the hunt, there will be a place for you to enter the sentences.
Entering the gathered clues enters you to win one of three signed hardcover copies of The Lost Girl of Astor Street if you're a U.S. resident. If you live outside of the U.S., you're eligible to win the ebook.
Contest closes Tuesday, February 14th.
Again,

clue 1 is: The
Here's the list of where you can find the other clues:
Clue 2: Some Books Are
Clue 3: Gabriella Slade
Clue 4: Page by Page, Book by Book
Clue 5: Pens and Scrolls
Clue 6: Singing Librarian Books
Clue 7: Heather Manning
Clue 8: Annie Louise Twitchell
Clue 9: Noveling Novelties
Clue 10: Kaitee Hart
Clue 11: Classics and Craziness
Clue 12: Zerina Blossom
Clue 13: Rebecca Morgan
Clue 14: Keturah's Korner
Clue 15: That Book Gal
Clue 16: Anna Schaeffer
Clue 17: Hadley Grace
Clue 18: Lydia Howe
Clue 19: Ramblings by Bethany
Clue 20: Matilda Sjöholm
Clue 21: Lydia Carns
Clue 22: Broken Birdsong
Clue 23 & Clue 24: The Ink Loft
Clue 25: Roseanna M. White
Happy searching!