About twice a month, I get together with an amazing group of ladies. These are women with whom I've walked through hard life stuff, and our time together is always encouraging, rejuvenating, and challenging.
Several weeks ago, one of the women led the group in an exercise where we look at our life through the lens of  story. We were instructed to reflect on events over the course of our life and identify moments of change. A person who is 30, she said in her email, should have about 12.
"Twelve!" I said to my husband. "How am I supposed to narrow this down to twelve events? I think I could list 12 books that changed my life."
He said, "Okay, what would they be?"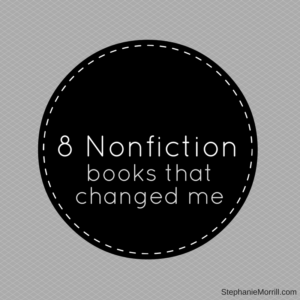 As it turns out, I came up with so many that I had to break my list into categories. So here are eight nonfiction books that have changed my life:
If you're a newsletter subscriber, you already saw this list in the monthly mailing! If you're not a newsletter subscriber, you can sign up here.
I would love to know what books have been life-changing to you, regardless of genre!